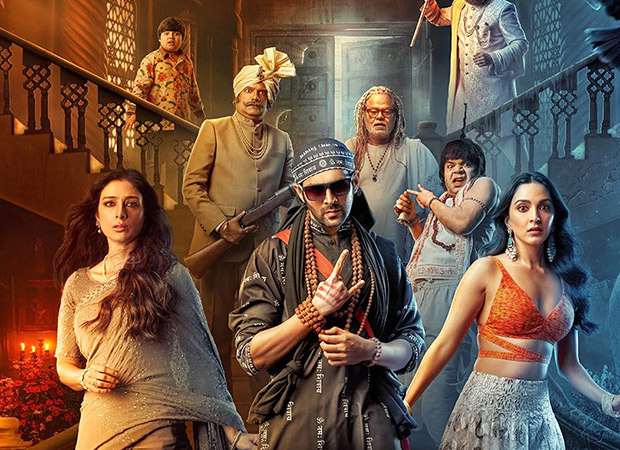 Bhool Bhulaiyaa 2 Review {4.5/5} & Review Rating
BHOOL BHULAIYAA 2
is the story of an evil spirit. 18 years ago, in Bhawanigarh, Rajasthan, a family is being harassed by the spirit of Manjulika. A tantric baba (Govind Namdeo) manages to trap Manjulika into a room in a haveli. He then seals the room. In the present day, Reet (
Kiara Advani
), from the same family is away for studies. She's returning back to Bhawanigarh to get married forcibly when she bumps into Ruhaan (
Kartik Aaryan
). Both hit it off quite well while they travel by bus. At Ruhaan's insistence, she leaves the bus and attends a music festival. Meanwhile, the bus falls into a gorge, killing everyone on board. Reet, hence, is presumed dead. At the same time, Reet realises that Sagar, her hubby to be, is in love with Trisha, Reet's sister. Hence, Reet decides not to let her family know that she is alive, hoping that it would help in the marriage of Sagar and Trisha's sister. Reet asks for Ruhaan's help. Both head to Bhawanigarh and take refuge in the haveli, where Manjulika is trapped, since the mansion is abandoned. However, Chota Pandit (Rajpal Yadav) sees the lights are switched on in the haveli. He informs Reet's family about it. They all descend at the haveli. Reet hides and Ruhaan faces them. Ruhaan pretends that he can communicate with the dead. He claims that he's in touch with Reet and that she wants the family to shift to the haveli. He further claims that Reet desires to see Sagar and Trisha married. Soon, word spreads that Ruhaan is an expert in talking to dead people. He's rechristened as Rooh Baba. All is going well. However, one day, Manjulika's spirit gets released from the haveli's room, leading to destruction. What happens next forms the rest of the film.
Aakash Kaushik's story is excellent and unconventional. It neatly incorporates the horror and comic quotient very well. Aakash Kaushik's screenplay does complete justice to the plot. The writers pepper the narrative with some very impressive moments that keep the interest going. The characters are also quite fun, and that helps. Farhad Samji and Aakash Kaushik's dialogues (additional dialogues by Sparsh Khetarpal and Tasha Bhambra) enhance the humour quotient.
Anees Bazmee's direction is supreme. He had a challenging job at hand as the first part has a cult following. However, he manages to rock the show with his execution. The story is a bit mindless but he handles it with panache, just like the way he helmed his past memorable films like NO ENTRY [2005], WELCOME [2007] etc. He's known for his comedy and in this regard, he doesn't disappoint. In terms of horror, he excels very well. On the flipside, the film drops in the beginning of the second half. Thankfully, the film picks up very well in the climax.
BHOOL BHULAIYAA 2 begins on a rocking note. The entry of Ruhaan and Reet is entertaining. The manner in which Reet decides to fake her death is a bit unconvincing but works well. Ruhaan's first meeting with Reet's family is quite memorable. How Ruhaan turns into Rooh Baba is hilarious. The flashback story of Manjulika is shown in the first half which is surprising. Usually, such a track is given prominence in the second half. The suspense at the interval point and flashback is terrific. Post interval, the film slows down and picks up when the Pandit (Sanjay Mishra) gets slapped by Manjulika. The finale has another unpredictable twist.
Speaking of performances, Kartik Aaryan is in a top form. He has his own way of depicting humour and it works well. Kiara Advani looks stunning and delivers a very able performance. She has a crucial part and does justice. Tabu is a surprise package and delivers one of the accomplished performances of her career. Rajesh Sharma leaves a mark and so does Samarth Chauhan (Potlu, the kid). Rajpal Yadav and Sanjay Mishra are funny. Ashwini Kalsekar is okay. Amar Upadhyay and Milind Gunaji are nothing special. Govind Namdeo gets limited scope. The actors playing Sagar and Reet are decent.
Bhool Bhulaiyaa 2 (Title Track) Kartik Aaryan, Kiara Advani, Tabu
The music is hummable. The title track is catchy. 'Ami Je Tomar' has the haunting feel. 'De Taali' and 'Hum Nashe Mein' are okay. Sandeep Shirodkar's background music is too good.
Manu Anand's cinematography is splendid. Rajat Poddar's production design is very rich and adds to the horror. Aki Narula's costume for Kartik Aaryan and Kiara Advani) are very glamorous. Rimple & Harpreet Narula's costumes for Tabu are also worthy. Ankita Patel's costumes for the rest are fine.
Manohar Verma's action is sans gory. Mandar Kulkarni's sound design enhances the impact. Redchillies.vfx's VFX is top class. Bunty Nagi's editing is appropriate
On the whole, BHOOL BHULAIYAA 2 is a complete entertainer and works due to the splendid combo of horror and comedy. At the box office, it is all set to take a flying start and will emerge as a super hit. It can also emerge as Kartik Aaryan's second Rs. 100 crore grosser. Recommended!