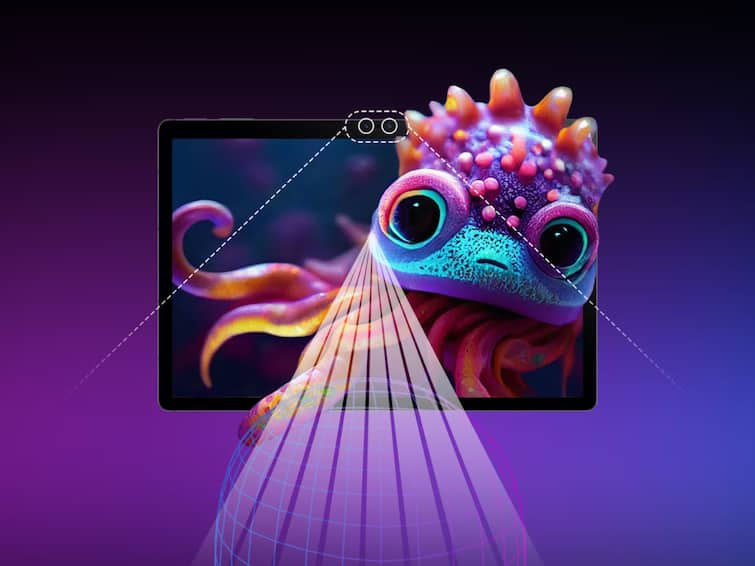 The recently concluded Mobile World Congress (MWC) in Barcelona saw a number of high-profile gadgets and services on show. However, while the event saw some of the greatest tech around being showcased, there was also a fair bit of eccentricity to go with all the excellence on show. The event also saw a number of products that were unconventional and even borderline weird, as manufacturers bravely ventured outside the tech box. Not all of these oddballs worked, but some were very noteworthy. 
Here are six always weird yet sometimes wonderful devices from MWC 2023:
ZTE Nubia Pad 3D:

Adding A New Dimension To Tablets…Literally 
A tablet on which you can watch content in 3D? Without any extra hardware or 3D glasses? 
Well, ZTE is looking to deliver just that with the Nubia Pad 3D tablet that it showed off in Barcelona recently.  
The tablet comes with a diffractive lightfield backlighting (DLB) layer inside its 12.4-inch display which allows it to convert content to 3D almost seamlessly. There are sensors near the display which detect your position and adjust the 3D effect accordingly. 
The tablet also comes with dual 8-megapixel cameras at the front and dual 16-megapixel cameras on the back, all of which let you create 3D images and videos as well. Powering the tablet is an old-ish but nevertheless flagship Qualcomm Snapdragon 888 processor. 
We had seen Nintendo and a few brands trying the 3D-without-glasses trick a few years ago before bailing out. Will ZTE succeed where they tripped up? The Nubia Pad 3D definitely looks trippy.
Huawei Watch Buds:

The Ear-Budding Smartwatch 
Huawei threw a spin on the smartwatch case by literally making it a case for TWS. We kind you not — the very appropriately named Watch Buds seems like your regular smartwatch from the front with a 1.43-inch round AMOLED display. Then the face flips open and reveals a pair of TWS earbuds lodged inside the watch itself. 
They are pretty high-tech buds too — you can use each in any ear and it will detect whether it is the right or left one and work accordingly. They come with a planar diaphragm, touch controls and even active noise cancellation. 
Add all that to the smarts on the watch itself (heart rate sensor, gyroscope, ambient optical sensor and so on), and this has got to be the most "loaded" smartwatch in tech history.
OnePlus Liquid Cooler:

Never Settle, But Stay Cool
OnePlus made a bit of a splash with a concept phone with a spectacular back at MWC 2023, but its 45W Liquid Cooler raised many more eyebrows. 
This is basically shaped like a power supply with a clip attached to it using the trademark OnePlus red cable. Attach the clip to the back of your phone, and the "semiconductor-based water cooling system" will bring down the temperature of your phone by almost 20 degrees Celsius, with coolant flowing from the larger box towards the clip attached to the back of your phone. 
That can be a fair bit for those folks who get into gaming battles on their phones with maxed-out settings. There is a version of the dock for Oppo too and that adds wireless charging to the mix, we hear. 
No, there are no fancy graphics, but gamers are sure to find this one 'cool' accessory.
Lenovo Rollable Display Notebook:

Rise, ThinkPad 
A concept that seems compelling in one product can seem close to ridiculous in another. Lenovo gave us instances of both at MWC 2023. Its brand Motorola showed the benefits of a rollable display in the RIZR phone, packing a larger display into a pocketable form factor. 
However, when a similar display was placed in a laptop, it seemed odd. Interesting, but definitely odd. Lenovo demonstrated what seemed like a standard-looking ThinkPad with a 12.7-inch display with a 4:3 aspect ratio. 
Hit a switch on the chassis, however, and that display suddenly starts to rise, and after some whirring (it is still a concept product, remember), finally settles at 15.3 inches with an 8:9 aspect ratio. It does give one way more viewing space, but it also looks curiously over-tall, almost to the point of overbalancing. 
It is technologically fascinating but does have a very work-in-progress feel to it, and we sure hope work on this progresses!!
Unihertz Luna:

Inspired By…Nothing
If imitation is the most sincere form of flattery, Unihertz is out to flatter Carl Pei's Nothing. 
The brand showcased a phone called Luna which seems extremely "inspired" by the Nothing Phone (1), a device that made headlines last year with its LED-laden back and transparent design. Well, the Luna has a similar LED-lit back, although the light patterns are different from the Phone (1). 
You also get the option to choose from six different light options, a large 6.81-inch display, a 108-megapixel main sensor and a massive 5000 mAh battery. 
It definitely was one of the most different-looking devices at MWC, though how well it will do when it actually comes to the market (it is unlikely to make it to India), remains to be seen.  
Panzer Matrix Hybrid Glass Screen Protector:

Good For Your Phone…And The  Environment Too 
One of the first things most people head out to get after investing in a new smartphone is a display protector. While these slim sheets of plastic and tempered glass do save your phone's display from scratches and damage from falls, they themselves can be bad for the environment as they are made of plastic and glass and therefore not easily recyclable. 
Panzer has come out with a solution of sorts, with its Matrix series of screen protectors, which it says are made of Hybrid Glass. This screen protector is made of 100 percent recycled plastic and according to many accounts, feels just as good as glass, without any of the stickiness that one gets with plastic screen protectors, although there are some concerns about its durability as compared to conventional tempered glass. 
At present, this range is available only for the Samsung Galaxy S23 series, but we hope to see them for other devices as well.