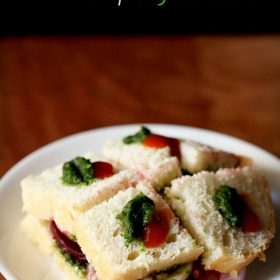 Sweet, salty, spicy, and savory. This classic Bombay Veg Sandwich Recipe is filled with flavor that will leave you wanting more! It includes beets, potato, butter, cilantro chutney and is a popular street food in Mumbai. Serve as breakfast or a snack.
About This Recipe
There are many different sandwich recipes served in Mumbai city. But this delicious veg sandwich was one of my favorites during my college days. Whenever I forgot my tiffin box me and my friends would go to a sandwich stall opposite our college and order customized vegetable sandwiches.
My sister is also fond of the toasted version of these sandwiches and always orders them when we go to restaurants in Mumbai. So this post is dedicated to her.
Coriander chutney, black salt, and chaat masala add spice to this sandwich recipe. The coriander chutney can be made a day in advance and stored in the fridge. It is also multi-purpose and can be added to sandwiches, pakoras or chaat.
You can also add roasted cumin powder, as well as freshly powdered black pepper for more flavor.
A unique vegetable that makes these sandwiches top notch is beetroot. The beetroot is boiled and sliced prior to it being layered in the sandwich. These add a lovely sweetness, tying all of the savory and spicy flavors together. I highly recommend adding beetroot for a truly authentic Bombay sandwich that tastes simply awesome.
Another important ingredient is chaat masala powder or sandwich masala. Chaat masala is a tangy flavorful spice mix that is often sprinkled on Indian snacks. You can easily find chaat masala online or any Indian grocery store if you live outside India.
Dairy butter is used in this veggie sandwich but you can swap this with vegan butter instead. You can also toast or grill these veg sandwiches if you want more crunch!
These sandwiches are so good that I made them often for brunch or a light lunch or dinner. They also make for a filling, comforting and tasty evening snack.
Step-by-Step Guide
How to Make Veg Sandwich
A) Prepare Coriander Chutney
1. Rinse 1 cup of tightly packed coriander leaves (cilantro) and 1 to 2 green chillies in fresh water for a few times. Drain all the water.
Then in a small blender or a chutney grinder jar, add the coriander leaves, ½ teaspoon chaat masala powder and the green chilies (chopped). You can roughly chop the coriander leaves and green chillies if you prefer. Finally, season everything with a few pinches of salt as chaat masala already has salt in it.
TIP 1: I usually add 2 to 3 green chilies as we prefer a spicy chutney.
TIP 2: You can also add half a portion each of coriander leaves and mint leaves instead of 1 cup of coriander. The mint leaves add a nice minty aroma to the chutney.
2. Blend or grind the chutney ingredients until smooth. Add 1 or 2 teaspoon of water if it is not blending. I did not add water as there was enough moisture from the rinsed coriander leaves which helped the chutney to blend smoothly.
Don't make this chutney runny or water by adding too much of water.
3. Add the coriander chutney to a bowl, taste it and add more salt if necessary. Cover and keep the chutney aside if you are making sandwiches immediately or refrigerate.
Preparing Vegetables
1. Steam or boil 1 medium-sized beetroot and 2 small to medium potatoes in a steamer or pressure cooker or Instant pot. If you are using a pressure cooker then cook them for 2 to 3 whistles.
2. Thinly slice 1 medium sized tomato, 1 small or medium sized onion and 1 medium size cucumber.
TIP: Some times you may get bitter cucumbers. To remove the bitterness from the cucumber I follow this method.
First slice the top part. Then add a few slits to the cucumber on top with a knife. Rub the top sliced part with the rest of the cucumber. You will see a froth-like substance on the cucumber. Doing this gets rid of the bitterness in the cucumber. Slice the frothy part of the cucumber. Rinse and peel it and then thinly slice.
4. Here's all the thinly sliced veggies on a plate. In clockwise order, there are sliced tomatoes, cucumber, onions, boiled potatoes and beetroot.
5. Use good quality fresh and soft bread. If you have a loaf then slice it equally. I used homemade white bread. Slice the edges off if you want. I did not because my homemade bread was soft. You can also use whole wheat bread, brown bread or multigrain bread or ragi bread (finger millet bread) or rye bread.
6. Spread a generous amount of salted butter on 8 to 10 slices. If you don't add enough butter then the chutney will cause the bread slices to become soggy.
Note: You can use both salted or unsalted butter. The butter should be softened and at room temperature.
7. Spread the coriander chutney now.
8. Place 2 to 3 boiled beetroot slices on 4 to 5 slices of the bread.
9. Sprinkle a pinch or two of black salt or regular salt, roasted cumin powder and chaat masala on the slices.
10. Place 2 to 3 tomato slices on the bread.
11. Then place 3 to 4 cucumber slices on top of the tomato slices. Then, sprinkle a pinch or two of black salt or regular salt, roasted cumin powder and chaat masala on the cucumber slices again.
12. Place 2 to 3 thinly sliced onion slices.
13. Sprinkle a pinch or two of black salt or regular salt, roasted cumin powder and chaat masala again.
14. Now add a layer of 2 to 3 boiled potato slices.
15. Sprinkle a pinch or two of black salt or regular salt, roasted cumin powder and chaat masala again.
16. Cover with the bread slices with the butter and chutney.
17. Slice sandwich into four pieces of rectangles or triangles. If you have larger slices of bread then slice the sandwich into 6 pieces.
18. Serve veg sandwich immediately with extra chutney and tomato ketchup. You can also sprinkle fine sev (thin fried gram flour vermicelli) on top when serving.
In Bombay these veg sandwiches are served with tomato ketchup or pumpkin ketchup and the green chutney. You can also enjoy them as it is without any side condiments.
Expert Tips
Bread: I used fresh homemade white bread to make these sandwiches but feel free to use any soft bread of your choice. Some great alternatives include brown bread, rye bread, multigrain bread, ragi bread or whole wheat bread.
Chutney: Green chutney adds a delicious spicy flavor to this sandwich. When making green chutney from scratch you can add less or more of certain ingredients. For example, add less green chilies if you prefer a milder chutney and add more if you want more heat. You can also add fresh mint leaves to the chutney for a refreshing minty flavor.
Vegetables: This sandwich includes beetroots, tomatoes, cucumbers, potatoes and onions. I add equal amounts of each veggie to this sandwich but you can add more or less of your favorite ingredient or leave out any veggies that you don't like. But for an authentic Bombay veg sandwich, I suggest including beetroot.
Vegan option: To make a vegan version of the vegetable sandwich, replace butter with vegan butter.
Additions: If you want even more flavor then you can add cheese or paneer to this sandwich. Add cheese like mozzarella, or cheddar cheese. If you are making a vegan sandwich then add vegan cheese instead.
FAQs
Can I use garlic in cilantro chutney and skip the mint?
Yes, you can add garlic to the cilantro chutney. I add garlic sometimes. Feel free to skip the mint and use coriander instead.
Can I add cheese to this sandwich?
Of course you can! Add cheese such as mozzarella or simple cheddar cheese. You can also add grated paneer.
How do you pack a sandwich for a road trip?
I don't recommend this sandwich recipe to pack for road trips as they become soggy. But for other sandwiches where watery ingredients are not used, wrap the sandwich in foil then place it in a tiffin box. The sandwich is now ready for a trip!

More Tasty Sandwich Recipes
If you made this recipe, please be sure to rate it in the recipe card below. Sign Up for my email newsletter or you can follow me on Instagram, Facebook, Youtube, Pinterest or Twitter for more vegetarian inspirations.
This Bombay veg sandwich recipe is a popular Mumbai street food of delicious sandwiches made with mix vegetables, green chutney and a few spice powders. 
Prep Time 20 mins
Cook Time 15 mins
Total Time 35 mins
---
---
Servings 4
Units
For making coriander chutney
Prevent your screen from going dark while making the recipe
Making chutney
In a mixie or blender, take 1 cup tightly packed coriander leaves, chaat masala powder and 1 to 2 green chilies.

Just add a pinch or two of salt as chaat masala already has salt in it.

Grind the chutney ingredients till smooth. No need to add water. But if you cannot grind, then add 1 or 2 tsp of water.

Collect the coriander chutney in a bowl. 


Check the taste and add more salt if required. 

Cover and keep the chutney aside if you are making veg sandwiches immediately or else refrigerate.
Preparing vegetables
Boil or steam the beetroot and potatoes till they are tender.

Once cooled, thinly slice the beetroot and slice the potatoes.

Peel and thinly slice onion and cucumber. 

Thinly slice the tomatoes as well.
Making veg sandwich
Trim the edges of the bread slices if you want.

Butter the bread slices evenly and very well.

Now apply the coriander chutney to the slices.

Place all the veggie slices one by one.

Sprinkle the black salt and chaat masala on each one of them or alternately.

Cover the sandwich with the other bread slices.

Slice into triangles and rectangles.

Serve bombay veg sandwich immediately with tomato ketchup and the coriander chutney.
You can cook the potato in the microwave. Wash the potato well. Prick the potatoes with a fork and microwave in the oven for 4-5 minutes.
When the beetroot & potatoes are getting cooked, you can slice the other vegetables and make the chutney.
You can use whole wheat bread or brown bread or multigrain bread or white bread. But the best taste in veg sandwich comes with white bread.
Dairy butter is used in these veg sandwiches. But you could easily use vegan butter.
You can also toast these veg sandwiches if you prefer.
Nutrition Facts
Veg Sandwich Recipe
Amount Per Serving
Calories 320 Calories from Fat 63
% Daily Value*
Fat 7g11%
Saturated Fat 3g19%
Cholesterol 13mg4%
Sodium 1619mg70%
Potassium 834mg24%
Carbohydrates 53g18%
Fiber 7g29%
Sugar 8g9%
Protein 10g20%
Vitamin A 755IU15%
Vitamin C 24.3mg29%
Calcium 225mg23%
Iron 6.6mg37%
* Percent Daily Values are based on a 2000 calorie diet.
Like our videos? Then do follow and subscribe to us on youtube to get the latest Recipe Video updates.
All our content & photos are copyright protected. Please do not copy. As a blogger, if you you want to adapt this recipe or make a youtube video, then please write the recipe in your own words and give a clickable link back to the recipe on this url.
This Veg Sandwich recipe from blog archives (first published in April 2012) has been republished and updated on 7 June 2021.
Source link