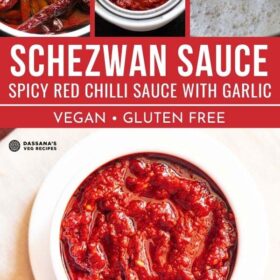 Schezwan sauce is a terrifically spicy, tangy, and salty condiment that compliments any number of recipes and snacks. It is easy to make from scratch using dry red chilies, garlic, and lots of bright spices. Follow my step-by-step instructions with photos and video for making a batch to enjoy with all of your favorite dishes!
About This Recipe
Spicy, tangy schezwan sauce also known as schezwan chutney is a versatile condiment that goes great with many delicious snacks. It features a wonderfully pungent combination of hot red chillies, garlic, flavorful sichuan peppers, and salty soy sauce. This recipe can easily be customized to your preferred level of heat for a great dip or bold sauce.
The sauce comes from the Indo Chinese cuisine that originated in Kolkata. This fusion cuisine is a creation of the Chinese community that had immigrated to India combining the classic Chinese methods of cooking with the Indian spices, herbs and vegetables.
Schezwan sauce is a wonderful addition to your meals in a way they simply perk up any plain, bland or boring meal. Make it and refrigerate or freeze to bring more flavors and spice up your everyday meals.
Try dipping your savory snacks like Momos, Spring Rolls, Scallion Pancakes, French Fries or Potato Wedges in this spicy sauce, or bring plenty of bold flavors to your Fried Rice or Noodles with this sauce. Trust me, you will love this condiment if you like spicy food.
Use this basic schezwan sauce to make recipes like Schezwan noodles, Paneer schezwan and Schezwan fried rice
Step-by-Step Guide
How to make Schezwan Sauce
Prepare the peppers
1. Firstly, rinse and then soak the dried red chilies in hot water for about 30 minutes. For a slightly less spicy taste it is recommended that you de-seed the chilies before soaking. You can also remove the stems if you prefer.
2. Next, drain the chilies and then remove the stalks. Break them into pieces and then add them to a chutney or spice grinder, food processor, or a blender.
3. Add a tablespoon of water at a time – up to 2.5 tablespoons total – and blend to make a smooth paste.
4. Use a mortar and pestle to crush the sichuan peppers coarsely. Set aside. You can choose to skip the sichuan if you like, for a less spicy schezwan sauce.
Make Schezwan Sauce
5. Next heat 4 tablespoons of toasted sesame oil, or any other vegetable oil, in a medium-sized pan over medium heat.
6. Add 15 cloves of garlic and 1 inch of ginger, all finely chopped. Saute for just a minute or two until no longer raw. Be careful to not brown or burn, or you'll wind up with a bitter taste.
7. Then add 4 or 5 chopped shallots, and saute until translucent stirring often.
8. Add the ground red chili paste to the pan.
9. Stir well to combine.
10. Then add the crushed sichuan pepper, if using. At this point you can add ½ tablespoon of chopped celery as shown in the video.
11. Saute the paste for 1 to 2 minutes, until the oil starts to seep from the chili paste. Add ½ cup of water and stir to loosen the paste into a sauce.
12. Simmer the sauce for about 2 minutes on a low heat stirring often.
13. Now add all of the following ingredients. Stir and mix. Continue to cook the sauce for 5 to 6 minutes more.
1 or 2 teaspoons of sugar
a pinch of salt to taste
¼ to ½ a teaspoon of black pepper powder
½ a teaspoon of soy sauce
1 tablespoon of rice vinegar (or white vinegar, or apple cider vinegar).
14. Turn the heat off. Once the schezwan sauce cools down, pour it into a small jar or bowl. Cover tightly with a lid and refrigerate.
15. Serve schezwan sauce as a condiment with your favorite snacks, or you can add it to recipes that require schezwan sauce, such as the schezwan fried rice, noodles, stir fried veggies, stir fried tofu, schezwan dosa, schezwan idli, paneer schezwan etc.
Tips + FAQs
How can I make a spicier or more mild version of this schezwan sauce recipe?
I have used a mix of the mildly hot Indian variety of Kashmiri red chilies and byadagi chilies. They give a good color, flavor and taste good, too. Depending on your taste buds and spice tolerance, you can choose chilies with lower heat or medium heat, or add more chilies for greater spice.
How long will homemade schezwan sauce keep well?
Scratch-made schezwan sauce stays good in the refrigerator for about 2 to 3 weeks in an airtight container. For the best tasting and longest-lasting sauce, I recommend adding a bit of oil to the top of the sauce before sealing the jar.
You can also freeze this sauce to last longer.
How can you enjoy schezwan sauce as a dip?
A few snack suggestions to dip in spicy homemade schezwan sauce include potato wedges or veg cutlet, french fries, spring rolls, dumplings or momos. It also goes quite well with savory fried Indian snacks like cheese pakora or veggie pakora, or samosa.
Some More Popular Condiments!
If you made this recipe, please be sure to rate it in the recipe card below. Sign Up for my email newsletter or you can follow me on Instagram, Facebook, Youtube, Pinterest or Twitter for more vegetarian inspirations.
Schezwan sauce is a spicy and pungent sauce made with dry red chillies, garlic, shallots and spices. It is a fusion indo Chinese recipe of a hot chili sauce to perk up your meals.
Prep Time 35 mins
Cook Time 15 mins
Total Time 50 mins
---
---
Servings 1 small jar
Units
Prevent your screen from going dark while making the recipe
Preparation
Rinse and then soak the chilies in hot water for 30 minutes.

You can also de-seed the chilies before you soak them.

Drain all the water. Remove the stems and then break the chilies. Add them to a chutney grinder or blender. Add water and make a smooth paste of the red chilies.

Crush the sichuan peppers coarsely in a mortar-pestle.
Making schezwan sauce
Heat toasted sesame oil or any other vegetable oil in a frying pan.

Add the garlic and ginger first and saute till their raw aroma goes away. Don't brown them.

Add the chopped shallots and then saute them stirring often till translucent.

Add the ground red chili paste and stir.

Then add the crushed sichuan pepper. Saute for 1 to 2 minutes more till you see oil from the sides of the sauce.

Add ½ cup of water and give a stir again. Simmer for 2 minutes.

Add salt, sugar, pepper, soy sauce and vinegar. Also add celery now, if using.

Stir and continue to cook for 5 to 6 minutes more.

Check the taste and add more salt, sugar or pepper as required.

Once the sauce cools down, collect it in a small jar or bowl. Cover tightly with a lid and refrigerate.

Serve schezwan sauce as a condiment with snacks or you can also add in recipes like schezwan fried rice or noodles, vegetable schezwan or veg balls in hot garlic sauce or schezwan masala dosa.

It stays good for about 2 to 3 weeks in an air-tight container in the refrigerator.
For a sweeter taste consider adding 1 to 2 tablespoons of tomato ketchup to the sauce. 
Use a mix of dried red chilies that give a good bright color and are moderately spiced. If you use chilies that are very hot or pungent the sauce will also become very spicy. I suggest to either use a mix of Indian varieties of Kashmiri red chili and byadagi red chilli as I have done. Or only use Kashmiri red chilies as shown in the video.
You can also add some celery as seen in the video recipe.
The recipe can be scaled to make a small or big batch.
To preserve the sauce for a longer time, add a layer of oil about

½ inch on top of the sauce. Always refrigerate this sauce and don't store at room temperature.
Nutrition Facts
Schezwan Sauce
Amount Per Serving
Calories 893 Calories from Fat 414
% Daily Value*
Fat 46g71%
Saturated Fat 6g38%
Sodium 2605mg113%
Potassium 3412mg97%
Carbohydrates 115g38%
Fiber 17g71%
Sugar 60g67%
Protein 22g44%
Vitamin A 8570IU171%
Vitamin C 1315.4mg1594%
Calcium 245mg25%
Iron 11.2mg62%
* Percent Daily Values are based on a 2000 calorie diet.
Like our videos? Then do follow and subscribe to us on youtube to get the latest Recipe Video updates.
All our content & photos are copyright protected. Please do not copy. As a blogger, if you you want to adapt this recipe or make a youtube video, then please write the recipe in your own words and give a clickable link back to the recipe on this url.
This schezwan sauce recipe post from the archives (June 2014) has been republished and updated on 10 June 2021.
Source link